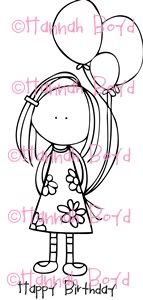 Good Morning!!!  I'm on a plane headed for home today.  Yea!  I had a wonderful time in Ohio visiting my in-laws, but I sure do miss sleeping in my own bed.  I don't like living out of a suitcase either.  I didn't want to miss sharing this week's BLD spotlight with you.  Today I'm featuring the sweet Bug & Roo Hazel. 
I always have a sheet of printed BLD images ready to play with for those times when my mojo isn't at its peak.  It's helpful having them on hand to color for those dark times.  Like adorable Hazel here.  I've had her colored, cut and ready to go.   I completed my card before I left for Ohio and seeing how I was a bit pressed for time I chose a clean and simple layout using some patterned paper from Simple Stories Snap collection.
Don't forget to head on over to the BLD blog to see what other treats the BLD gals have created for you today!