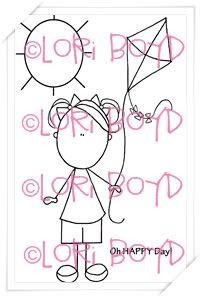 Sugar Sticks Girl with Kite 
What's not happy about this cutie?   I'm still smiling at this card.  Does it make you smile too?  This is one of the few images I have from BLD in rubber.  Yep they did come in rubber ages ago.  LORi still has several of them on hand if your interested.  See this post for more details.   I picked up the newest Blueprints from MFT for Mother's Day.  Yes I bought myself a little something.  A girls got to do what a girls got to do.  The scallop, detailed strip and flower were all dies from the Blueprints 3.  The blueprint is for a square card, but as you can see, the dies are all interchangeable to suit your style.   
Don't forget to head on over to the BLD blog to see what other treats the BLD gals have created for you today!